PVC In Profile
Polyvinyl chloride PVC is a well known, widely discussed and researched polymer which, because of its unique physical and chemical properties has a wide range of possible applications.
It is biologically inert, has good resistance to a wide range of chemicals and possesses inherent fire retardant properties.
Materiel Facts
PVC has a well established, but constantly improving material science supporting its use. This is driven by several factors including the changing needs of legislation (e.g. REACH) and the need for greater knowledge of the material and how to work with it.
PVC behaviour is modified by blending the polymer with different materials to develop a PVC formulation. This formulation will dictate how the polymer processes and the properties of the finished product.
Properties modified include:
Light transmission: from clear to opaque

Weatherability: suitable for indoor use to 10+ years for external use

Flexibility: unplasticized and plasticized

Density: by adding a blowing agent the sheet density can be reduced to about 1/3 of normal PVC to make an opaque rigid PVC foam sheet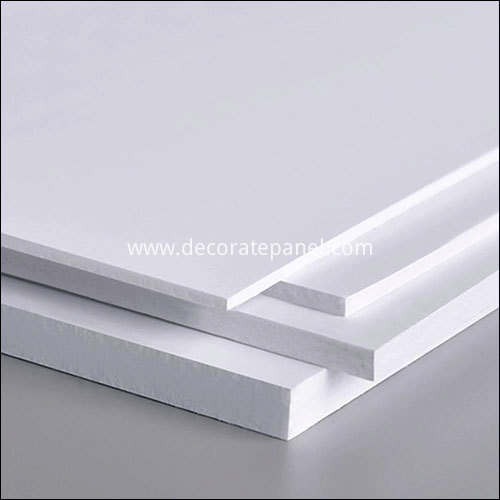 Materiel Science
PVC was one of the first plastics to be developed commercially, and is also one of the most extensively used. It is derived from salt (57%) and oil or gas (43%). PVC is mixed with various additives to achieve the precise properties required for specific applications.
What are the characteristics of PVC?
Non toxic and biologically inert

Chemically resistant

Highly durable and flexible

Capable of sterilisation

Easily fabricated

Low petrochemical content

Low energy demand in production

Highly cost effective material

Long lifecycle

Recyclable
Materiel Usage
PVC is one of the most used plastic materials in the world. At global level, demand for PVC exceeds 35 million tonnes per annum and it is in constant growth (+5% on global average), with higher growth rates in the developing countries.
In Europe (EU-27), the production of PVC products, including exports, totals about 8 million tonnes per year. European PVC resin consumption totals some 6.5 million tonnes per year, or 15% of all plastics use in Europe, with an average growth of 2-3% per year.
PVC is used in various fields ranging from essential services (water supply, sewage, supply of electric power, etc.), housing, transportation, consumer products, and electronics, to medical devices and products. The applications are generally divided on the basis of the hardness of products, e.g., rigid or flexible. PVC products feature most prominently in those applications which require long service lives.
Some typical uses of Brett Martin's PVC brand, Marvec, include:
rooflights

glazing

greenhouses

carports, gazebos and awnings

hygienic cladding

agricultural wall cladding

floor and desk mats
Other PVC products manufactured by Brett Martin include:
sewer pipes and fittings

water pipes and fittings

rainwater goods

soil and waste systems

ducting
Environmental Impact
PVC plays a major role in delivering and sustaining the quality, comfort and safety of modern life-styles. Its impressive ratio of cost to performance also means that people of all income groups can enjoy these benefits. High living standards are not just about the present, however. Future generations also have the right to material and associated benefits. This is the foundation of the concept of `Sustainable Development`. PVC products are already helping every day to improve people`s lives and conserve natural resources in a world that is growing in population, with ever-increasing demands for water, food, shelter, sanitation, energy, health services and economic security. The PVC industry through Vinyl 2010 recognises it`s commitment to sustainable development for all.
Manufacturing facts: Extremely strict guidelines govern PVC manufacture and workers` exposure

Application facts: A substantial volume of research and over 50 years of experience, support the fact that PVC can be safely used even in the most sensitive of applications (such as medical devices).

End of life facts: PVC is one of the most recyclable of polymers but can be disposed of, if required, quite safely. There are a growing number of recycling schemes in operation throughout the UK and Europe. Many manufacturers have also placed vinyl recycling programs into action, recycling both manufacturing waste back into their products, as well as post consumer PVC construction materials to reduce the load on landfills.

Vinyl 2010: This initiative is the European PVC industry`s voluntary commitment to sustainable development. The Vinyl 2010 programme shows the commitment of the sector to current and future generations of Europeans
At the end of a PVC product´s life it can be recovered, recycled or disposed of safely.
Industry Links
Plastics Industry
PVC Recycling
Associations
NOTE:

This article is transferred from https://www.brettmartin.com/, if you need
PVC Foam Board
,
Email us at
Eric@decoratepanel.com
for a free estimate or via website
https://www.decoratepanel.com/
,get your Satisfactory products
Aluminum Sheets,Acrylic Sheets,PVC Foam Board,Aluminum Composite Panel,Fluted Polypropylene Sheets
Business Type:Manufacturer , Trade Company
Product Range:Plastic Sheets , Aluminum Composite Panels , Acrylic Paints
Products/Service:Aluminum Sheets , Acrylic Sheets&Plexiglass Sheet , Fluted Polypropylene Sheets , Aluminium Panel Trims & Joiners , PVC Foam Board , Aluminum Composite Panel
Certificate:ISO9001
Company Address:Room 1916 ,Building A, Suzhou City Life Plaza, 251 Pinglong Road , Gusu District , Suzhou, Suzhou, Jiangsu, China


Previous: Why Choose CMD ACP Sheet?